Types of Cranes and How To Rent A Crane Lifter Service
You must have some knowledge when you opt to rent a crane lifter service, like the types of cranes available, their costs, benefits, etc. Having some knowledge about cranes can prevent your property and equipment from any damage. You can make a fair decision if you already know about cranes. Let's first look at the crane types.
Crane for Multiple Terrains
The all-surface crane can work on various places, including public roads, highways, and rough terrains. It can lift multiple loads ranging from 100 to 800 tons. You can use it to lift a car or heavy construction equipment in far areas. It is also suitable for lifting industrial equipment, etc. But, you must approach a good crane rental company in this case, such as Laaldin goods.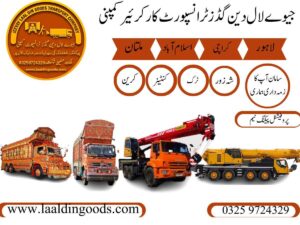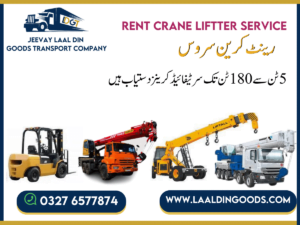 Crawler Crane
The lifting capacity of a crawler crane ranges between 80 and 2535 tons which means it has versatile functions. You will see the crane crawling on a track or some undercarriage that helps it to work in a narrow space. It is also suitable for rough terrains and it can lift small to heavy weights. You can approach Laaldin for a crawler crane rental service Lahore.
Crane for Rough Surfaces
There is a special crane for rough places having uneven surfaces. For example, the construction sites have rough terrains where it becomes hard to lift equipment with a normal crane. The rough-surface crane has a lifting capacity of up to 200 tons, however, check with the crane service provider to know more.
Tower Crane
If you need to lift something for larger heights, the tower crane would work. It can lift from 8 to 35 tons of weight, depending on its making, and can go up to 1000 feet. You must discuss the requirements with your crane provider to get the right type of tower crane. Those in the construction of high-rise buildings often need tower cranes.
Crane for Hydraulic Trucks
You may need a crane for a hydraulic truck that can carry 40 to 110 tons of weight. These are also special cranes, so you must get them from a reliable source. Such a crane is available in different makes that you can explore online. Industries often need hydraulic truck lifting services that's why they prefer rental cranes.
Hoists for Multiple Tasks
You can hire hoists according to your projects, including construction tasks, warehousing, maintenance, and many others. Here again, you should evaluate your project and budget to hire any crane rental company. All types of manual, electrical, and mechanical-driven hoists are available.
Crane for a Carry Deck
There are not only customers who need cranes for ordinary tasks, but some projects also involve carry decks that need special cranes. Various cranes are available in this case, which can lift multiple weights ranging from 7.5 tons to 15 tons. However, the lifting range can vary, depending on the crane company. Get a carry deck crane rental service after considering your needs and budget.
Boom Trucks on Rent
Some lifting projects need boom trucks which only a few companies can provide. Generally, such a truck can carry up to 30 tons or more. The boom crane truck service is suitable for projects having small equipment and heights.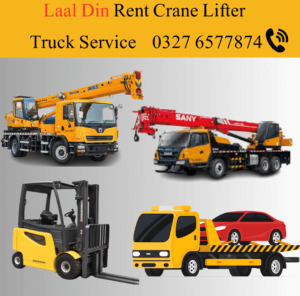 Crane Rental Service Near Me
If you live in Lahore, you should opt for Laaldin Goods to rent a crane lifter service, as it's a reliable source. Whether it's a bare rental, operational, or a maintained rental, you can count on this company. It has a fleet of versatile cranes to fulfill your diversified needs. Other than Lahore, it is available in Faisalabad, Karachi, Islamabad, Multan, Quetta, and many others.
The company also provides trucks, cars, freight forwarding, and packers and movers services, so it is a one-stop business place. Bring your problem regarding transportation and Laaldin will solve it through its vehicles.
High-Tech Cranes
You must look for advanced cranes with new rigging arrangements that can carry small to heavy loads. Laaldin can handle small to large projects, as it has experts and advanced equipment. The company provides a rigging staff according to its customers.
The main purpose of the rental crane is to save money that goes into buying your own crane. The service is ideal for small businesses or beginners who can't afford to have a crane. At the same time, big industries can have rental cranes for multiple sites.
How to Choose a Crane Service
A few steps can help you select the right crane rental company, such as:
First, you should know your budget and the kind of crane you require. The nature of the task helps determine the type of crane you should have.
The service provider should be reliable in terms of equipment, crane conditions, maintenance, and cost of course. At the same time, you should focus on the right labor as operating a crane is not that easy. You need skilled workers in this case.
Make sure there are no additional charges in the name of insurance or else. Make your budget clear to the crane provider so you can buy what suits you. Your precious equipment needs effective cranes, or you will lose it, so be alert in this case.
Many companies are available and insist to hire them online, so you have to choose them carefully. Getting a recommendation from a friend would be good to prevent any disputes on the site.
Sometimes a single crane can perform several tasks, so better go for it instead of hiring several cranes for multiple tasks. However, always focus on quality in terms of equipment and service. Spend a bit more to lift your load and avoid any damage.
The crane provider should have a good reputation, and you can count on Laal din Goods Transport Company in Lahore in this regard. It has a proper address and contact details, and you can physically check its cranes and other equipment.
So, it is not hard to get a suitable crane for rent if you consider the above things.