We are proud of being one of the top Largest Trucking Companies in Pakistan.
Laaldin Goods brings multiple services under one roof to ease up your life. Whether logistics and freight forwarding or relocation a d car rental, our service plans are specifically designed to meet every customer's needs.
Let's have a look at the core services that we provide:
Freight forwarding
Packers and movers
Car carrier
Rent a car
Rent a coaster
Rent a truck
Online trucking company
Laal din cargo service
Goods Transport Service
We have a multimodal system to transport your goods from one place to another. Our cargo service is ideal for importers and exporters in terms of cost, reliability, and quality.
Laal din is an ideal logistics partner for lots of businesses and a preferred place to contact to enhance the supply chain worldwide. We value our reputation and consistently work to maintain it and excel better than before.
Innovative Solutions
Each of our clients is important to us and we believe in equality, whether a small or large order. We aim to provide solutions to benefit everyone who reaches us with their problems.
Jeevay Laal din Goods transporter in Lahore has top professionals to deliver the best and most meaningful services. We have a culture to serve and satisfy every client. You will see innovative solutions in our company that helps you plan new business strategies, enhance your orders, and manage the supply chain.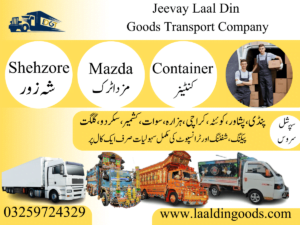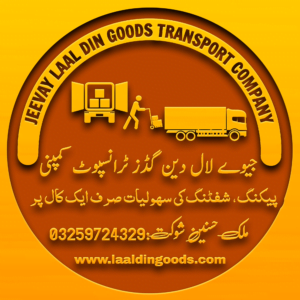 Laal din Goods have experts with years of experience to fulfill your requirements for relocation or logistics or else. Our team responds faster than others and ensures punctual delivery, be it warehousing trucking, rent a car, or any other service.
Our dedication, commitment, and a fast response bring us long-term clients. We work hard to bring something positive to your business. We keep on upgrading the technology in logistics, devices, and equipment.
Relocate Largest Trucking Company Through Laal din Goods
Laal din Goods is not all about logistics, instead, it has helped so many families and businesses with relocation. The packers and movers services include:
Full and partial moving
Delicate items packing and moving
Furniture packing and moving
Free estimate of all services
Loading and unloading labor services
Packing of commercial and residential goods
Careful packing of kids' stuff
Moving boxes and other essentials
When it comes to car rental services you will see the same dedication and prompt response as other services. You will get:
Cost-effective rental a car service
Complete satisfaction
A certified car rental Company
Pick and drop vehicles
24/7 rent a car at the airport
Car rental with and without drivers
Luxury cars
Our Rent a Truck service has helped unlimited people shift their goods and enhance their business. Here again, we believe in serving our customers at low prices, facilitating them in every way.
From a shopkeeper to a big businessman having multiple chains, anyone can hire our trucks to shift the goods and grow their business.
We Are Online
The best thing is that you can access and order all our services through our website. Just trust your internet connection to get our service immediately. The online Rent a Truck service is really popular and so are other services.
Packers and Movers in Lahore
Packers and Movers in Karachi
Packers and Movers in Islamabad
Packers and Movers in Rawalpindi
Packers and Movers in Sialkot
Packers and Movers in Sargodha
Packers and Movers in Faisalabad
Packers and Movers in Peshawar
Packers and Movers in Quetta
Packers and Movers in Okara
Packers and Movers in Sahiwal
• Packers and Movers in Taxila
• Packers and Movers in Gwadar
• Packers and Movers in Mardan
• Packers and Movers in Swat
• Packers and Movers in Gujjrat
• Packers and Movers in Jehlum
• Packers and Movers in Sheikhupura
• Packers and Movers in Jhang
• Packers and Movers in Nawabshah
• Packers and Movers in Sadiqabad
• Packers and Movers in Abbotabad
Car Carrier Service in Lahore
Car Carrier Service in Karachi
Car Carrier Service in Islamabad
Car Carrier Service in Rawalpindi
Car Carrier Service in Sialkot
Car Carrier Service in Sargodha
Car Carrier Service in Faisalabad
Car Carrier Service in Peshawar
Car Carrier Service in Quetta
Car Carrier Service in Okara
Car Carrier Service in Sahiwal
• Goods Transport Company Gwadar
• Goods Transport Company Taxila
• Goods Transport Company Multan
• Goods Transport Company Mardan
• Goods Transport Company Swat
• Goods Transport Company Gujjrat
• Goods Transport Company Jehlum
• Goods Transport Company Sheikhupura
• Goods Transport Company Jhang
• Goods Transport Company Nawabshah
• Goods Transport Company Abbotabad